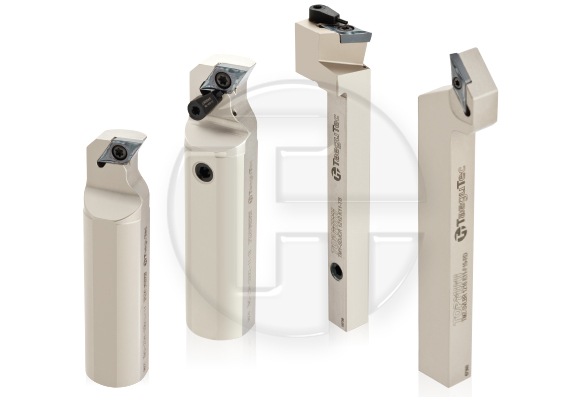 The TOPMINI product line has been expanded with the introduction of three new holder types: a new SLEEVE holder, Y-AXIS holder and SHIFT holder.
The TOPMINI SLEEVE holder is designed to be mounted on the rear tool post for external machining. As such, it eliminates the shortage of tools on the tool post when machining complex geometries. Not only does the T-BURST holder enable increased tool life and superior chip control, it is available in a variety of shank sizes for all Swiss type automatic lathes.
Unlike conventional holders, the Y-AXIS holder mounts to the tool post so the upper side of the insert faces downwards for more effective chip evacuation as chips easily eject downwards without interference during machining. An additional advantage of the Y-AXIS holder is improved rigidity due to the fact that the holder is mounted in the same direction of the workpiece's rotation realizing high precision and even more stable machining. It is optimally designed for difficult-to-cut materials such as aluminum, low carbon steel as well as stainless steel. The T-BURST type holder is also available as a Y-AXIS holder.
The SHIFT holder is an unconventionally shaped holder which completes finishing applications without retreating to the workpiece's guide bush after the roughing stage. A further benefit of the SHIFT holder design is that the extra space, between the holder and the workpiece, ensures easier chip removal making it suitable for the machining of thin and long workpieces in Swiss type automatic lathes.