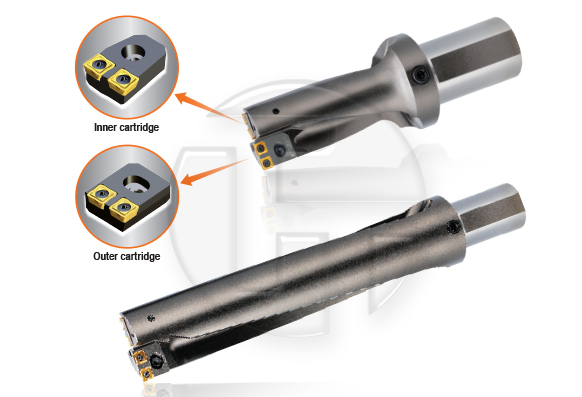 The application range of TaeguTec's TOPDRILL has extended up to Ø80.
TaeguTec's TOPDRILL line, which has established itself as a leader in the insert type drill market with excellent productivity, has launched a new drill that works on diameters over Ø51.
The advantage of the large diameter cartridge type TOPDRILL is that by introducing setting plates on the outer cartridge, it enables a single drill body to machine multiple hole sizes. In addition, the new drill holders are more convenient for customers because only one insert type is needed for both the inner and outer pockets while facilitating more efficient inventory management and reduce tool costs.
Features
» Cartridge type structure allows adjustment of drill diameters
- Multiple setting plates for different diameters
- Adjustable up to maximum 5 mm
» One insert for both the internal and external pockets
- Improved inventory management and reduce tool costs
» Improved machining stability due to optimal insert positioning
» Drill range: 51.0-80.0 mm (2xD, 3xD, 4xD)