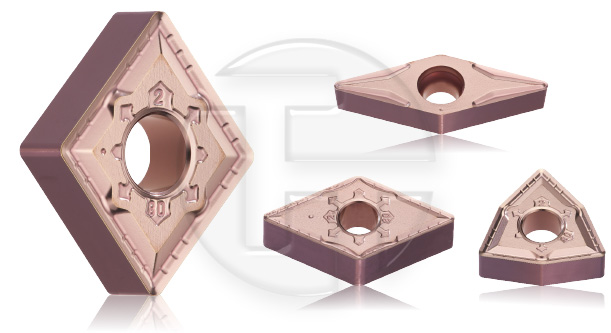 TaeguTec has introduced a new CVD coated grade, TT3005, for excellent finishing of heat resistant super alloys (HRSA).
The TT3005 CVD coated grade, easily noticed by its shiny purple surface, is the latest addition to TaeguTec's T-TURN family. Characterized by high wear resistance due to the ultra-fine substrate, it is also very good at preventing built-up-edges. It is a grade suitable for high-speed finish machining and longer tool life in mediumspeed conditions.
With the introduction of the TT3005, along with the TT3010 and TT3020 grades in 2018, TaeguTec now covers a wide range of heat resistant super alloys (HRSA).
Note: TT3005, TT3010 and TT3020 grades are suitable for heat resistant super alloys such as Inconel, hastelloy and waspalloy. For titanium alloys, the K10 grade is the first recommended option.
Features
» High abrasion resistant ultra-fine substrate
» CVD coated layer for high wear resistance and machining stability
» Surface treated smooth coated layer prevents built-up-edges and promotes good chip evacuation
» Suitable for high-speed finish machining of aerospace materials
» Distinctive shiny, purple surface color for improved recognition of the latest T-Turn grade