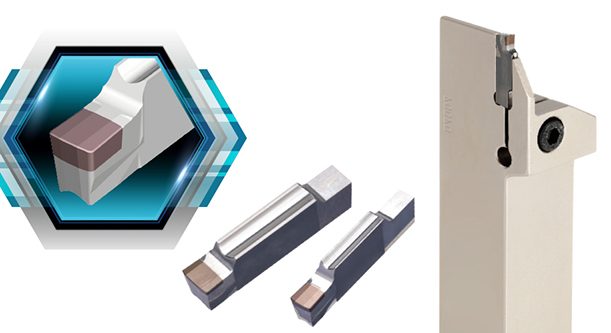 TaeguTec has released T-Clamp CBN inserts for high feed turning and excellent machining surface finish of high-hardened workpiece materials.
When excellent machining surface roughness is required in the high feed turning of high-hardened workpiece materials, the conventional solution is to use CBN turning inserts with a wiper. However, due to the excessive contact and bending by radial cutting forces at low depths of cut, there is a tendency to experience the issue of surface roughness deterioration of the workpiece.
To solve this problem, TaeguTec has developed a T-Clamp CBN insert which is designed to enable bi-directional high feed turning and obtain the effect of superior surface finish due to the natural bending of the T-Clamp holder during machining.
With a maximum feed rate from 0.8 to 1.2 mm/rev, this new line greatly contributes to the productivity improvement of high-hardened automotive parts such as shafts, gears and transmissions. Furthermore, it enables at least more than twice of the high feed machining performance when compared to conventional turning CBN wiper inserts.
* As part of the new campaign, the design for the new T-CLAMP line highlights TaeguTec's new direction.