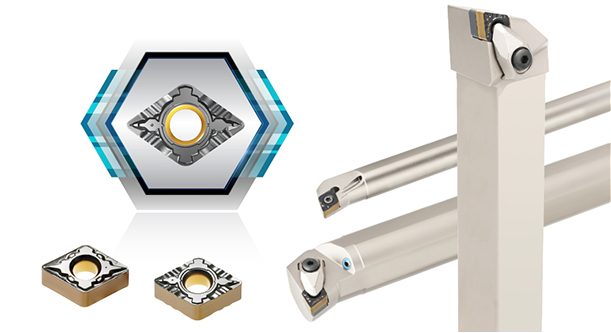 TaeguTec has launched a new RHINO-X-TURN line, the XNMG 70 degree corner angle insert and holder line.
RHINO-X-TURN's XNMG insert has the advantages of both the CNMG and DNMG inserts, not only does it keep their advantages but the new line overcomes their shortcomings as well. The new RHINO-X-TURN line of inserts and holders is a multi-functional line that can be used for internal and external turning, face turning and profile turning. Developed under rigorous testing, the XNMG inserts demonstrate good chip control and stable tool life in a wide range of operations from medium to finish turning, and the line enables good surface
finish with less vibration due to low cutting forces. In addition, the insert's thickness increases rigidity and stability with a wide support surface for excellent performance in automotive parts machining. For longitudinal turning, the TXJNR/L holder with a 93° entering angle is mainly used, while the neutral type TXQNR/L holder is particularly used for both longitudinal and face turning.
Also in internal turning, this new insert demonstrates good performance with good chip control and low cuttingforce. A further advantage is its ability to machine complicated shapes like internal chamfers without replacing the holder, which means improved productivity.