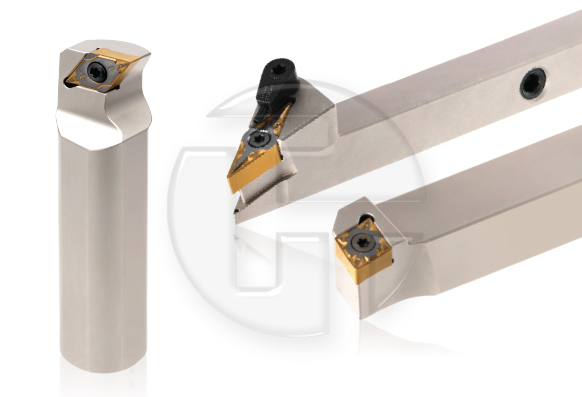 TaeguTec has released new external holders compatible with RHINOTURN inserts for Swiss type automatic lathes.
For Swiss type automatic lathes, hook-leaver type holders for conventional double-sided RHINOTURN inserts come as the only option in the miniature machining market. Now, TaeguTec has introduced screw clamping type sleeve holders and external holders for external machining that generates better precision and clamping force for Swiss turn machining. The newly added holders (sleeve and external type) are fitted with double sided RHINOTURN inserts, with twice the number of corners compared to the competition's holders for ISO positive inserts.
The new sleeve holders can be mounted to the rear tool post for complex geometry applications in external machining. Available as T-BURST standard items and in several shank sizes, the new line accommodates all Swiss type automatic lathes.
External holders are available for C, D, T and V type inserts to meet the demands of a variety of applications. Available in three shank sizes - 12,16 and 20 mm - the external holders are suited for Swiss turning. The external holders are also available as standard T-BURST items to cover the widest range of Swiss turning applications.
Features
Screw clamping type sleeve holder
» Holders for D type inserts mount to the rear tool post
» Eliminates the shortage of tool posts when machining complex geometries
» T-BURST holders enable excellent chip evacuation, improved tool life and machining stability
» Available in all shank sizes for Swiss type automatic lathes
Screw clamping type external holder
» Four holders for C, D, T and V type inserts are available to meet the wide range of applications
» Available in three shank sizes to suit all Swiss-Turn machines: 12, 16 and 20 mm
» T-BURST holders enable excellent chip evacuation, improved tool life and machining stability