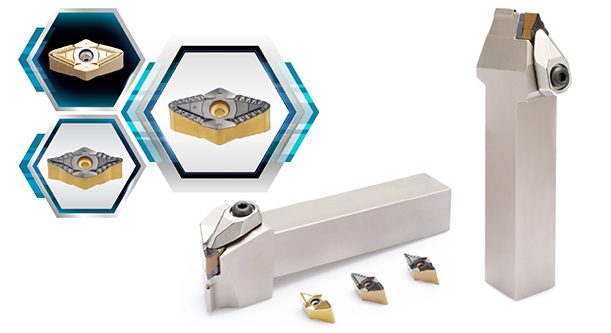 TaeguTec has unveiled a new POS-S-TURN line for all-directional turning including high feed backward turning.
Conventional turning requires the tool to move in one direction, then be exchanged to go in the reverse direction. As a result, productivity decreases with the increased downtime resulting from changing the tool. TaeguTec has solved this problem with the release of an innovative line that covers both forward and backward turning with one tool. The innovative ZNMV inserts and holders are capable of effective turning for longitudinal and facing operations in both forward and backward directions.
The double-sided POS-S-TURN inserts have the same axial and radial rake angle and capabilities as standard positive inserts when mounted to holders, allowing for low cutting force with double the number of cutting edges. In addition, it is a multi-functional, flexible line capable of all directional turning, profile and undercut machining without the required exchanging of holders.
Moreover, the outstanding high feed feature is due to the small entering angle, and this enables higher productivity for both longitudinal turning and facing in the backward direction (BWT & BWF).
Using the same T-HOLDER design, this holder is user-friendly and has strong clamping force. Inserts are available in three chip breaker types: BM for general purpose in steel, BS for super alloy and BF for finishing in steel, which are compatible with TZQNR/L holders.
They are an optimal replacement for the standard VBMT insert and SVVBN holder when using the BF insert and TZXNN holder, doubling the number of cutting edges.