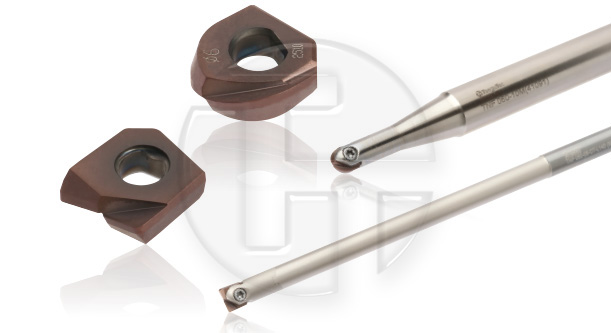 TaeguTec has launched additional Ø6 items to its FINEBALL line, a line widely used in finishing applications for both the mold and die as well as aerospace industries.
The Ø6 FINEBALL, along with the current Ø8 and Ø10 lines, are an efficient and affordable solution that replaces the solid carbide end mill. Even though the FINEBALL line is an insert type cutting tool solution, it has proven itself with excellent results in narrow corner and profiling operations with superior precision and performance.
The new inserts are available in two types; an NFB and NFR type along with the existing FINEBALL inserts.
The NFB type comes in two edges: the NFB-SM with a helical cutting edge and the NFB-FM with a straight cutting edge, while the NFR type comes in several corner R items.
Holders come in two types: a TNF item for both the NFB and NFR inserts, and a TNFR holder for the NFR insert. In addition, the FINEBALL tool holders are available in both steel and tungsten carbide shank types to suit a wide selection of applications and machining conditions.