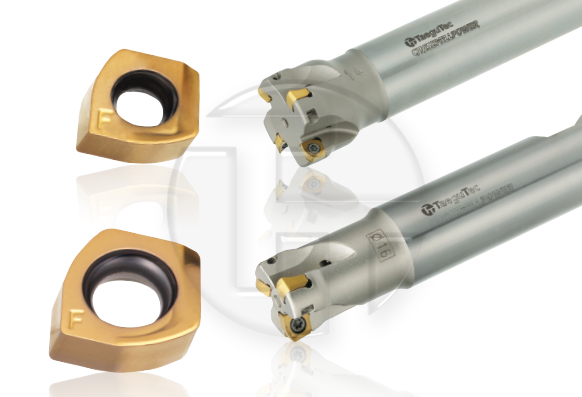 TaeguTec has introduced the 2PKT 05 and 07 high feed inserts to the CHASEMILL POWER line.
TaeguTec's new CHASEMILL POWER 2PKT 05 and 07-HF (high feed) inserts are designed for high feed rate machining, making it an excellent productivity improvement cutting tool line.
The CHASEMILL POWER line inserts already come with a highly efficient double-sided dovetail structure. TaeguTec has added the HF inserts to the line in order to perform high feed machining. An additional advantage to the double-sided structure is that it solves frequent tool failure and screw issues therefore enabling stable machining at high feed rates.
One further feature of the double dovetail structure is the excellent clamping force it provides when an HF insert is seated in the holder, allowing the 2PKT-HF insert to further withstand related high feed rates as well.
Features
» New optimized HF insert added for high feed machining
» High positive double-sided insert ensures stability and excellent machinability
» Double-sided dovetail design ensures stable and strong fastening
» New line's 05 size insert is compatible with the existing 90 degree holders (the 07 size holder requires modification)